Your free guide to start learning acrylics today!
If you've always wanted to pick up a brush and try acrylic painting or perhaps you've dabbled in it before and want to improve your skills, then try this free guide!


You'll finish this course with a basic acrylic starter kit to get yourself started with painting and an understanding of the fundamental techniques that you can apply to your own painting process.


You will walk away confident and ready to start exploring acrylics.
What you'll get
·      A starter kit for basic supplies so you don't have to break the bank by buying the wrong things.
·      Lots of time-lapses demonstrating techniques and paintings that you can try for yourself
·      Downloadable references and sketches to help get you started so you can get painting quicker
·      A quick run-down on preparing for painting and color theory
·      A free step-by-step painting that will guide you all the way through


Who am I?
I'm Charlotte Jordan, a self-taught surreal animal artist. I've been painting for years and I've never gone to art school for it. Through years of experimenting and play, I developed a strong style and skill set that allows me to confidently paint anything I want. I developed my artist intuition by learning from the artists and mentors I am inspired by. This is where I come in! I will be your mentor, your coach, and your art advocate. I will help you grow and manifest confidence in yourself and help you flourish as an artist without having to spend thousands of dollars on art school.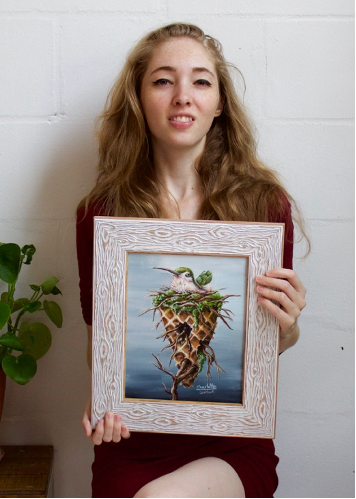 Start your painting journey today! This free course is completely at your own pace and available to you for life.


No matter if you've never picked up a brush before or if you're looking to grasp new techniques, you will learn something new!


Looking for something more in-depth?

If you're looking for a more extensive introduction to acrylics, then perhaps the Acrylic Basics for Beginners Course is for you. With this course, you can build an in-depth foundation of techniques, get confident with colors, learn to paint anything, and paint anything with ease.


This course will be your shortcut to improving your skill quickly. Plus, it's packed with lots of bonuses and downloadables that will help guide your artistic journey to the next level. Nothing to lose and everything to gain!